20p Roulette
20p Roulette
Roulette is one of the most popular table games in the world. Lottery Games has a number of variants of this game including this popular format called 20p Roulette.
This version of the game was developed by Inspired Gaming in 2015 and is particularly tailored for lower stake players who like to enjoy a small flutter. As such you can enjoy classic European Roulette on single number bets for as little as 20p per bet. And with single number odds payouts of 35:1, you could win £7 from 30p in a matter of seconds.
20p Roulette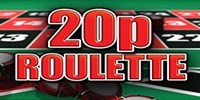 20p Roulette Review - All you need to know!
Provider: NYX
Game Type: Casino Game
Payout: 97.3%
Available on Mobile: ✔︎
Available on Desktop: ✔︎
UK Compliant: ✔︎
How to play 20p Roulette
20p Roulette is based upon the European version of the game with numbers 0-36 in play. The European version of the game has a higher payout to players (RTP 97.3%) than the American Version. The game offers all of the traditional types of roulette bets you'd expect and with a minimum stake of 20p per chip, it's a great way to enjoy this classic online casino game on a smaller budget.
Players place chips on the table by simply selecting the position on the table where they would like to place their bet. Each chip is worth 20p.
Once bets have been placed you simply spin the wheel. The way to win is if the ball lands on a number on the wheel in which you have placed a bet. However, players don't only win on numbers, but can also select all reds, for example, or all even, which expands the betting options, increases the game versatility as well as enhancing players gaming experience by providing you with more opportunity to win.
Betting Options for 20p Roulette
Each chip placed is worth 20p. 20p chips will be placed until the value reaches £1 where the chip value will increase to £1 increments until the bet value reaches £15, where increments will then increase to £5 until 50.
This continues as players place more bets and the stakes increase, with the max chip value going up to as much as £100 increments up to £1000. Whilst this game is perfect to play on a smaller budget, if you fancy yourself as a bit of a VIP and fancy playing for larger bets, then 20p Roulette can cater for this also.
There are various options, such as repeat bet where players can place the previous bet or simply clear bet to reset their bet. There is also an option to place a split bet where you can bet in between two numbers on the table.
Neighbour bets are where bets are placed on the 2 numbers on either side of a chosen number.
20p Roulette has multiple different betting options as well as higher betting options making the game suitable for both low stake and high stake games as well as giving players lots to think about thanks to the various different ways to place a bet.
If you enjoy this classic game. Then you can try our other Roulette variants - Three Wheel Roulette and Auto Roulette.