9 Pots of Gold
9 Pots of Gold
9 Pots of Gold is an Irish themed, easy to play 5 reel, 20 payline slot game developed by Microgaming. It has awesome payouts, top quality graphics and multiple ways to win.
9 Pots of Gold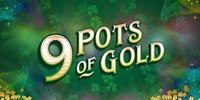 9 Pots of Gold Review - All you need to know!
Provider: Microgaming
Game Type: Slot Game
Payout: 92.01%
Available on Mobile: ✔︎
Available on Desktop: ✔︎
UK Compliant: ✔︎
How do you play 9 Pots of Gold?
9 Pots of Gold is a 5x3 reel online slots game that offers 9 winning combinations and has a hint of good old Irish luck. Players are able to bet between a range of 0.20 and 60 meaning the game's staking options are versatile - from players who just like a small flutter to VIP level players.
The most rewarding symbol on the reels is the pot of gold and players can gain cash prizes as long as they have 3 or more of these pot symbols showing. 3 of these pots pay double what you bet. Hence a £10 bet would enable you to win £20.
If you hit 9 pot symbols count yourself extremely lucky as this would win you 2000 times your initial total bet amount. This combination would allow lucky players to win the maximum payout of £120,000 with the highest initial bet amount of £60.
Many of the in-game symbols enhance the already Irish themed slot style the game adopts including harps and 4 leaf clovers. The wild mushroom is a special wild symbol to look out for because it substitutes for any all symbols except pots of gold and free spins bonus.
Each symbol represents a different value with the most rewarding of the regular symbols (excluding pots of gold and wild mushrooms) being the triple Seven. 5 of these wins 37.5 times your stake.
The information section of the game provides everything you need to know regarding how much value each Irish symbol represents.
This game has an RTP of 96.24% with medium volatility.
What are the Bonus features of 9 Pots of Gold?
9 Pots of Gold has a couple of special, high reward bonus features, one of which is the three free spins scatter. Players will be given the chance to win big by spinning the wheel which can offer multipliers that in turn create better rewards and payouts. Each part of the wheel also offers a bonus number of spins that a player can get plus how much their bet has been multiplied:
Plus 10 times 2
Plus 30 times 3 (most rewarding!)
Plus 12 times 2
Plus 10 times 2
Plus 20 times 2
Plus 15 times 2
Plus 10 times 2
Plus 20 times 2
Plus 12 times 2
Plus 25 times 3
No one does bonuses quite like the Irish, so if you're lucky enough to have the luck of the Irish on your side and spin well, you could get another 30 free spins and your payouts tripled.
The scatter feature is a very unique feature, and is part of the reason why this popular online slots format is worth the time. Notwithstanding the added incentive of chasing those 9 Pots of Gold scattered across the reel.
Background features
Unsurprisingly, the design of this game is Irish themed - with a green background and various Irish styled icons such as 4 leaf clovers scattered around the background and, of course, your token leprechaun to complete the setting.
9 Pots of Gold has multiple high quality fun animations including gold falling from the screen after certain payouts and rainbow colours surrounding the reel as players earn those prizes.
The game has cool sound effects including the sound of gold coins falling as the reel is spun, more added effects when players win prizes, as well as upbeat background music and an Irish themed soundtrack.
FAQs
Can I play on my mobile?
This game can be played on both IOS and Android mobile devices as well as tablet and desktop.
Who developed 9 Pots of Gold?
The game is developed by Microgaming who also developed other well known online gambling games such as Lucky Leprechaun Slot.
What is the maximum winnings possible?
Players can win up to 2000 times their stakes with the maximum win being 120,000.