Double Bonus Poker
Double Bonus Poker
A must-play for any poker fan, experience a real-life casino from the comfort of your own home as you try to finish with the strongest hand possible in Double Bonus Poker. With an incredible maximum payout of 4,000 coins, can you increase your winnings by playing the Double Bonus feature? There's only one way to find out.
Double Bonus Poker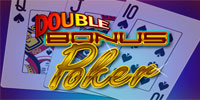 Play Double Bonus Poker from home
Provider: Genii
Game Type: Casino Game
Payout: 99.45%
Available on Mobile: ✔︎
Available on Desktop: ✔︎
UK Compliant: ✔︎
Why You Should Play Double Bonus Poker
Double Bonus Poker is the perfect online poker experience for novices and seasoned veterans alike. With seamless gameplay, you quickly learn the ropes as you aim to collect the biggest payout possible. Best of all, you have total control over how you want to approach each hand – hold or draw, it's completely up to you. Matching two pairs pays out even money, and if you're lucky enough to get a Straight or Royal Flush, even better!
How to Play
A very simple and straightforward game to play, Double Bonus Poker is played with a standard deck of 52 cards and maximum payout of 4,000 coins. You can wager up to five coins per hand, selecting a stake between £0.25 and £5. Once you've decided your approach, hit 'Deal' and watch the cards appear before your very eyes. Decide which cards to keep on the deck, and which you'd like to discard. If you're feeling adventurous, play your poker face and bet your maximum against the dealer, or be more conservative and get a feel for how the hand may unfold before doubling your bet. If you're in a position to collect your winnings and walk away from the table, that's no problem, but don't forget about the Double Bonus feature.
Features
Double Bonus
The incredible double bonus feature is what sets this game apart from some of its counterparts, giving players the option to increase their winnings. Once you have won your hand, you can increase your prize by simply drawing a card of higher value than the dealer's card. If you do, you're onto a winner. Brave poker players can continue doubling their hand until they reach the doubling limit, providing they keep winning!