King Kong Cash
King Kong Cash
King Kong Cash Slot is a fun well designed multi line online slot game based on the character King Kong from the 1933 fantasy horror monster film.This game is an upbeat spin on the character and involves slick quality animations and awesome bonus features.
Once you are in, the aim of the game is to spin until you have woken Kong from his nap where you may be rewarded with a King Kong bonus and a variety of cash prizes. And a jackpot of 1000x your stake on this game gives players the chance to win big!
King Kong Cash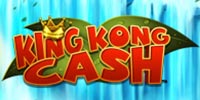 King Kong Cash Slot Review - All you need to know!
Provider: NYX
Game Type: Slot Game
Payout: 95.79%
Available on Mobile: ✔︎
Available on Desktop: ✔︎
UK Compliant: ✔︎
How do you play King Kong Cash Slot?
Once you have entered the game, on your left will be two grey arrows where you will be able to increase or lower your stakes. The minimum stake is 0.20 and the max stake is 200.
With an RTP of 95.8%, King Kong Cash Slot is perfect for your standard player looking for a game of slots that involves cool features and links to the overall animal theme of the game such as one eyed parrots and tigers smoking pipes. Each symbol has different prizes with the King Kong cash symbol being the most rewarding. In order to spin the reels simply click the green arrow on the right.
As with most games, the bottom of the screen will show players how much they are betting, how much they have earned per spin and their overall balance.
The rewards process is simple and easy to understand for new players, with a wide range of symbols that amount to different prizes. If players spin 5 barrels for example, they can win 500 times their stakes.
Rewards aren't all that hard to come by either, with just 3 tigers amounting to 20 times your stakes. Prizes can be won in so many different ways, its bananas! Animal symbols are more valuable than letters so keep an eye out for those tigers.
King Kong cash is completely responsive and available on your laptops and PC as well as tablet and mobile devices as well.
What are King Kong Cash Slots Bonus features?
King Kong Cash Slot has 9 bonus features all of which can amount to great cash prizes. In the movies, awaking Kong from his sleep would be disaster and would lead to terror and distress across the streets of New York, however in King Kong Cash Slot, waking Kong is the aim of the game and is nothing to fear as it leads to awesome and rewarding bonus features.
All these 9 bonus features enhance your chances and increase the likelihood of leaving the game victorious. 4 of the 9 bonus features come from waking Kong from his sleep, including: Banana canon wilds, Golden barrel super spin, King Kong spin streak and Bonus boost. Be prepared to reap the rewards once the ape is woken.
The other 5 bonus features are available if players land 3 of the bonus King Kong symbols. These are: Barrel blast bonus, King Kong trail bonus, Empire free spins, Golden Kong free spins and Big Monkey bonus.
Players are also given the chance to gamble if they want to take the chance for a more rewarding bonus. These Kong themed bonus features have links to Kong and the jungle adding more fun and excitement to the game with the empire free spin taking players to the top of the empire state building which links to the theme of the original 1933 film where Kong is captured at skull island and taken to New York city.
Clever features like this give this online slot game a classic King Kong feel but in a far more feel good and lighthearted way.
Background features
Blueprint Gaming have added quality animations as well as fun features which include King Kong himself asleep at his throne, as well as golden coins and bamboo sticks surrounding the slots, giving players a feel of the jungle. There are also ruins of an old temple and trees and vines that give the game its jungle kingdom feel. This provides players with top quality visuals which enhance the overall experience and enjoyment of the game.
FAQs
Can I play on my mobile?
As stated above, King Kong Cash Slot is an online slot format available on mobile as well as tablet, desktop and PC.
Who developed King Kong Cash?
The game is developed by Blueprint who develop various other games such as Deal or No Dael and the Megaways series.
What is the maximum winnings possible?
Players can earn 1000x their initial stake thanks to the largest jackpot. With the max stake being 200, players can win up to £200,000.